Our Products
We sell an extensive range of promotional products – merchandise that is custom printed with the logo or name of an organisation with the aim of promoting a brand, service, product or event.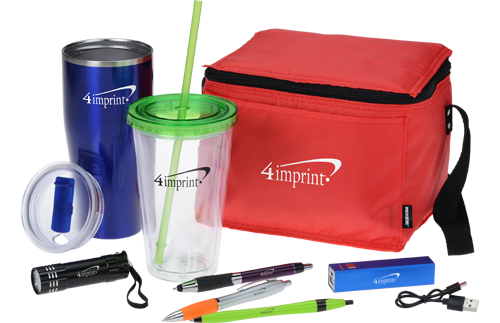 Our product range
comprises tens of thousands of individual products ranging from basic giveaways such as pens, bags and drinkware to higher value items such as embroidered apparel, business gifts and full size trade show displays, enabling our customers to find the perfect product for their promotion and their brand. This range is carefully curated by an experienced merchandising team.
Top product categories
Product trends
Our merchandisers track market trends to identify the products customers are looking for:
Apparel, our largest category, was a significant contributor to overall revenue growth in 2018, driven by a wide product range and a simplified and persuasive customer offering, supported by our substantial in-house embroidery capability.
Technology was a dynamic category in 2018, with major growth in areas such as wireless charging, wireless earbuds and phone holders. This category continues to respond to the increased use of mobile devices.
Vacuum tumbler sales have expanded significantly over the past few years. Double-wall stainless steel construction, vacuum insulation and other performance features have driven volume increases across travel mugs, water bottles, can coolers and other drinkware sub-categories.
Retail brands lend instant credibility and are an increasing part of the mix. Under Armour® and Nike® (apparel), Contigo® (drinkware), Eos® (lip balm) and Moleskine® (notebooks) all contributed positively to revenue growth in 2018.
Competitive advantage
Speed and rapid production time are increasingly important in the promotional products industry. 4imprint has an expansive 24 Hour product offering, with over 6,000 items available to order today, ship tomorrow.
Value is always an important merchandising consideration. Our Valuebuy$ range of products focuses on essential products, highlighting items featuring not only a competitive price but also quality, fast lead times and great colour selection.
Exclusive products: Over 650 products are exclusive to 4imprint's customers. The 'Only at 4imprint' moniker provides an effective marketing edge reflecting expanding and creative relationships with our trusted supplier partners.
4imprint 'own label' brands take exclusivity a step further, resonating with our customers' aspirations, developing an emotional appeal with the brand, and often filling a gap in product categories.
Crossland® started exclusively as an 'outdoor' apparel brand, primarily in fleece jackets. In 2018 the brand was successfully expanded into other product categories, including 'beanie' hats, blankets and vacuum mugs. Tests have indicated that further cross-category penetration is possible, supported by a full brand development strategy.
The reFresh® drinkware line was launched in 2017, featuring exclusive designs of colourful and affordable water bottles. The line is being expanded to encompass popular acrylic tumblers, and other potential cross-category applications of the brand are being evaluated.