Our Products
We sell an extensive range of promotional products – merchandise that is custom printed with the logo or name of an organisation with the aim of promoting a brand, service, product or event.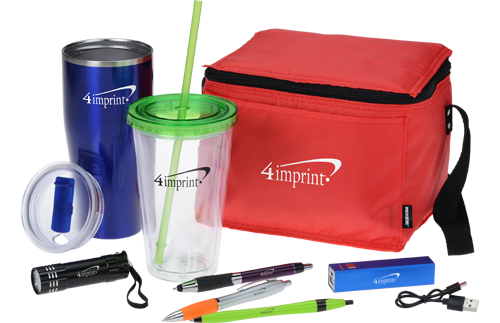 Our product range comprises tens of thousands of individual products ranging from basic giveaways such as pens, bags and drinkware to higher value items such as embroidered apparel, business gifts and full size trade show displays, enabling our customers to find the perfect product for their promotion and their brand. This range is carefully updated and curated by an experienced merchandising team.
In reaction to circumstances in 2020, particularly restrictions affecting conferences, trade shows and meetings, customers still looked for ways to deliver promotional products into the hands of clients, employees, donors and other constituents. In response, we developed appropriate product fulfilment services for our customers, assembling and mailing packages of products and printed materials directly to individuals, helping them stay in touch through the pandemic.
Product trends
Our merchandisers track market trends to identify the products that our customers are looking for. Needless to say, the nature of the COVID-19 pandemic in 2020 impacted product trends with some obvious developments such as face masks complemented by more subtle developments indicative of existing underlying trends.
Trade show & signage was a mixed bag. Trade show giveaways and displays saw a very steep decline in sales as any type of group convention, conference, meeting or gathering of any kind was prohibited in most locations. Conversely, signage sales were boosted by the promotion of safety guidelines and businesses pivoting their services, including pick-up and delivery activities.
Wellness & safety was an important category in 2020 in terms of both increased demand and product line additions. Two sub-categories stand out:
Face coverings saw a significant increase in business, starting with a surge in existing bandana and neck gaiter products, and shifting quickly to adding face masks. Our merchandising team worked closely with key suppliers on availability of product and to ensure that mask products were of sufficient quality to meet FDA and Health Canada standards. The depth and mutually beneficial spirit of our supplier relationships was highlighted at one of our supplier partner's factories, a small business with 18 employees, where demand for its primary beverage holder product was clearly suppressed. In conjunction with our supplier we supported a 'pivot' to utilise the factory's sewing expertise to become our main supplier of face masks.
Hand sanitiser has always been a good seller, but showed exponential growth due to COVID-19 in March 2020, followed by steady year-on-year increases running around double the prior year's volume. Demand shifted from a primary use as an event giveaway to organisational and personal use, with an increase in quantity of product per container. Several existing suppliers diverted entire production lines to 4imprint to support our customers, with intense collaboration to maximise efficiency and ensure on-time delivery. Our expectation is that hand sanitiser will remain a strong, steady category going forward.
Team motivation became a more important factor. As the usage of promotional products as 'in-person' giveaways declined, many customers shifted products and usages to say 'Thank You' to team members and business partners. This theme was reflected in several product categories and complemented an underlying pre-COVID-19 shift into long-lasting, high-quality products. Categories such as stainless steel vacuum mugs, wireless earbuds and popular brands with a high price point such as North Face® and Carhartt benefitted from this trend.
Work from home ("WFH") was, unsurprisingly, an important factor as 2020 unfolded. Like 4imprint, many of our customers have partial or complete teams working from home. Demand has highlighted products that are applicable to both home and work settings. An example is the blanket category, which is popular in the office setting due to air conditioning but is equally useful in the home environment in winter months. We have also seen positive momentum in the fitness and outdoor recreation/leisure categories.
Apparel remains our largest category and has been an important growth driver in recent years as we have built out our in-house embroidery and printing capabilities. Demand for apparel has remained relatively robust, particularly in the fourth quarter of 2020. The retail shift to comfort and casual wear was also reflected in our apparel trends. Sweatshirts, hoodies and fleece jackets all performed well. Headwear, particularly baseball caps and beanies, also showed resilient demand. In general, customers continued to navigate to higher price points for both style options and popular brands.
4imprint 'own label' brands
Over the last few years 4imprint has developed and continues to evolve its own exclusive brands to fill a gap in certain product categories.
Crossland®. The Crossland® brand began as an 'outdoor' apparel brand, primarily in fleece jackets. In 2018 the brand was successfully expanded into other product categories, including 'beanie' hats, blankets and vacuum mugs. 2019 saw additional apparel lines, as well as vacuum drinkware, backpacks and coolers added under the Crossland® brand. The pandemic in 2020 has not deterred further expansion of the range, including outdoor chairs, and additional outerwear, including 'puffer' style jackets and vests. These new products have received a positive response and round out the line for further growth.
reFresh®. The exclusive reFresh® brand was launched in 2017 with a core line of affordable water bottles in a variety of designs and colours. Through 2019, the brand has evolved to include competitively priced, brightly coloured tumblers and travel mugs. In late 2020 three new metal drinkware items were added to the brand to become leading products in their respective sub-categories: a single wall aluminium bottle, a double wall vacuum bottle and a double wall wine tumbler.
TaskRight®. Launched in spring 2020 with a range of notepads and sticky pads, the TaskRight® brand is a line of everyday stationery products. 2021 will bring expansion into notebooks and memo sets, which are positioned to become leading products in their respective sub-categories.